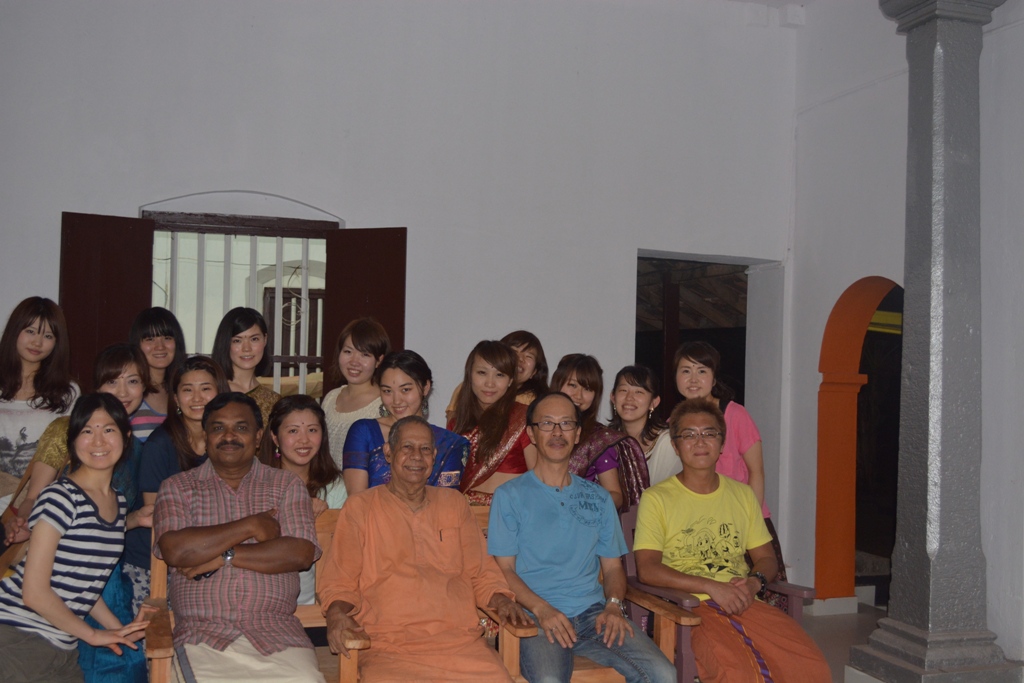 SEEDS INDIA organized three meetings and interactive sessions with Indian religious leaders and Japanese University students as part of latter's internship to learn more closely the cultural, social and religious life of India. SEEDS INDIA is committed to provide intercultural and inter religious understanding between nationalities to build a peaceful society.
INTERFAITH MEETING AT SRI RAMA KRISHNA ASHRAM, THIRUVALLA, KERALA
On 25th February the students visited Sri Ramakrishna Mutt at Thiruvalla, Kerala and interacted with Swamijis and inmates of Ashram. Swami Gogulanandaji Maharaj, the head of the Mutt explained about the essence of Hindu Religion and the history of Vedas, Upanishads and sacred Bhagavad Geetha. Students were told about the life of Swami Vivekananda and his famous speech at the Chicago World Parliament of Religion on 1893. After hours of discussion, students came to understand various rituals, practices and social services of the Mutt and the simplicity applied in the life of the Swamijis'. Swamiji also requested them to visit the Rama Krishna Ashram in Japan and the students happily agreed to visit the RKM in Japan to learn Hindu way of life.
Students also participated in routine evening prayer of Mutt along with Indian devotees. Mutt provided traditional meal to students at the end of meeting.
---
INTER-RELIGIOUS INTERACTION WITH RT. REV DR. PHILIPOSE MAR CHRYSOSTOM METROPOLITAN
The team visited Rt. Rev. Dr. Philipose Mar Chrysostom Metropolitan at his official residence in Maramon, Pathanamthitta District, Kerala on 1st March 2014. The program was organized to widen the attitude of Japanese students to other beliefs and patterns.
Dr. Chrysostom is the senior Metropolitan Bishop of the Mar Thoma Church and the immediate past Head of the strong one million members Syrian Mar Thoma Church. He had also served as the Vice president of World Council of Churches, Geneva.
Metropolitan shared about India's religious, linguistic and racial diversities and its peaceful coexistence. He also urged students to be more committed to society and well being of fellow being. Students also shared about various subjects ranging from social and economic issues of Japan and natural calamities like tsunami. Students enjoyed Metropolitan's vibrant knowledge in various subjects along with lots of humor. Students have felt as if they have experienced most blessed moments of life. He also informed them about the interfaith initiatives of Swami Vivekananda, the Indian scholar and monk who founded moderate Hindu mission Rama Krishna Mission to serve the people across the world both physically and spiritually. Bishop also told that diversity of religion is a blessing, God never created anything same, so is religion.
Dr. Thomas Mathew, IARF SACC Chairman and Ferris University India Study Center Director have been giving leadership to India Study tour for the last 12 years.