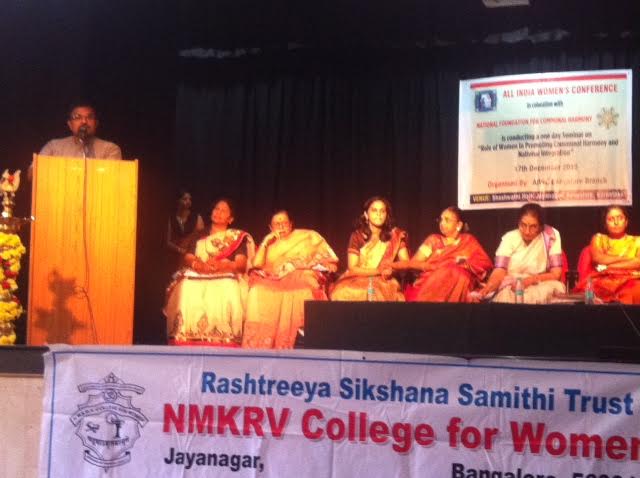 All India Women's Conference (AIWC), Bangalore Branch organized one day seminar on "the Role of Women in Promoting Communal Harmony and National Integration" on 17th December 2015 at NMKRV College for Women, Jayanagar, Bangalore. The seminar was sponsored by National Foundation for Communal Harmony, Government of India.
The All India Women's Conference (AIWC) is a non-governmental organization (NGO) based in Delhi. AIWC is the oldest national women's organization in India. It was founded in 1927 by Margaret Cousins, "as an organization dedicated to the upliftment and betterment of women and children". As well as continuing its original mission, the AIWC has since diversified into various social and economic activities involving women. Today there are more than 100,000 members in over 500 branches. AIWC is recognized worldwide as a premier organization working for women's development and empowerment.
International Association for Religious Fraternity and Peace (IARFP) associated with AIWC in executing the seminar. Our international Council Member, Mrs. M.A. Hemalatha is the president of AIWC, Mysore branch.
The conference was presided over by Mrs. Veena Kholi, President, AIWC Delhi and inaugurated by Mr. Nagaraj, Bangalore Metro City Corporator. Mrs. Tejaswini Ananth Kumar, social activist and wife of honorable central minister Mr. Anandakumar spoke on Women's view on what could promote communal harmony. Rev. Sudhakar Joshua spoke on View on promoting communal harmony. Dr. Shylaja spoke on Role of Students in promoting communal harmony. Dr. Thomas Mathew, Chairman of IARFP spoke on Peace through national integration. Adv. Mrs. Sheela Anish spoke on Integrity without differences through legality. Later the forum was opened for sharing and feedback. Sharing of real story experiences by four women based on inter-caste, interreligious marriages was really touching. Cultural programs and film on communal harmony and national integration were held. Dr. Thomas Mathew presented certificates to all participants.
View more photos here