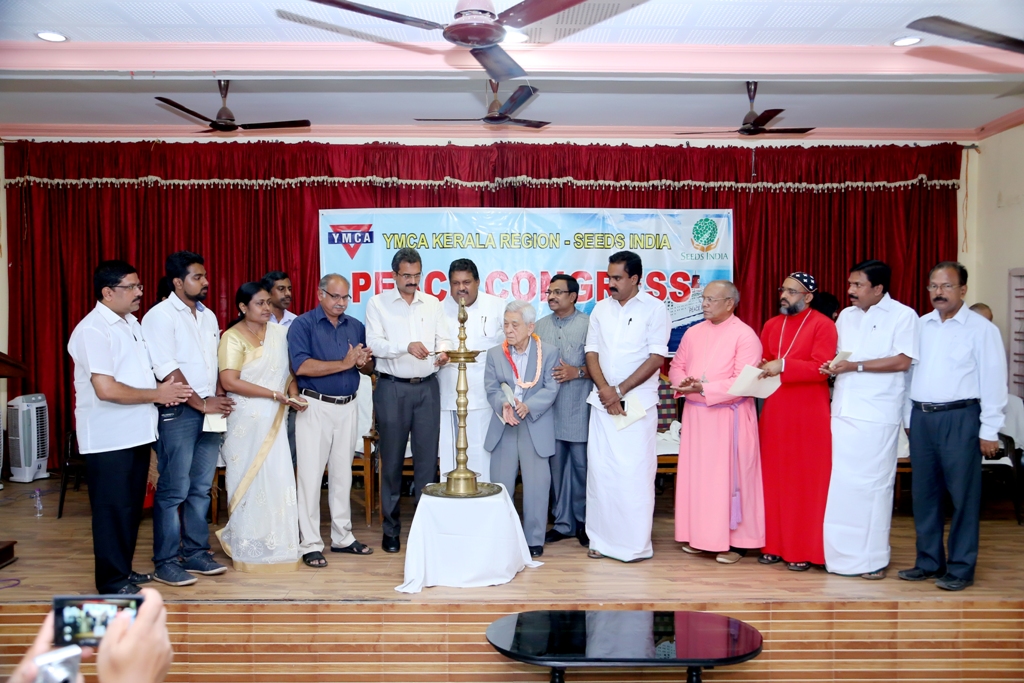 YMCA Kerala Region in close association with SEEDS India and Mayors for Peace organized a Peace Congress at YMCA Kerala Region Head Quarters at Aluva. Mr. Lebi Philip Mathew, Chairman of YMCA Kerala Region presided over the program. High Court Justice Shaji P. Chali inaugurated the Congress by lighting the lamp. Hibakushas and other dignitaries also joined with the Chief Guest in inaugurating the Congress. Former moderator of Church of South India (CSI) Bishop Dr. K.J. Samuel, Aluva MLA (Member of Kerala Legislative Assembly) Mr. Anwar Sadath, Bishop Mathews Mar Aprem, Metropolitan-Jacobite Syrian Church, Dr. Thomas Mathew, Vision 2020 and other leaders of YMCA Kerala Region addressed the gathering. YMCA Kerala region consisting 600 rural YMCAs is the most active region of the worldwide network of YMCAs.
Mr. Miyake Nobuo, Hiroshima survivor and Ms. Mitamura Shizuko, Nagasaki survivor respectively shared their personal testimonies at the Congress. Followed by the testimonial session, the entire participants pledged to advocate for world peace.
Later the Hibakusha team had an interactive meeting with selected youths. Youths from different local YMCAs gathered at the Congress Hall shared their concerns for the abolition of Nuclear weapons and various other topics ranging from Japanese technology in general and response to nuclear weapons and nuclear power stations.
Chairman Mr. Lebi Philip Mathew presented (draped with) traditional Ponnada (shawl) to each Hiroshima-Nagasaki Survivors and Youth Communicators.
Later Mr. Takaichi Mukai, Mayors for Peace Secretariat interviewed three promising youths from India and one Hibakusha and Hiroshima Mayor Mr. Matsui Kazumi presented the footage at one of the side events of Mayors for Peace held at UN during the NPT Review Conference, next day.